NEWS | FEATURES | PREVIEWS | EVENTS
originally published: 11/16/2022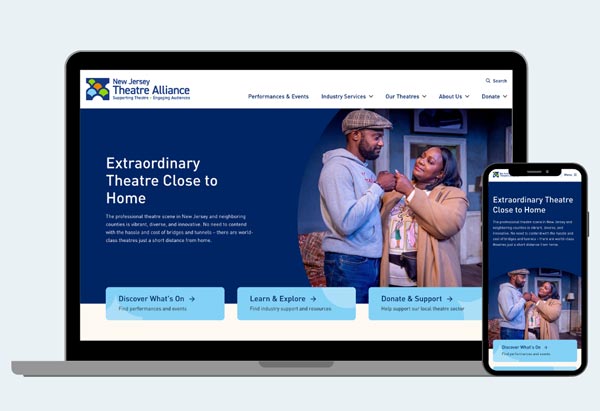 New Jersey Theatre Alliance ("The Alliance"), one of the nation's largest arts service organizations, has announced they have updated their website at njtheatrealliance.org. The Alliance's new website provides a one-stop-shop for the public to discover member theatres and their productions across the state and the region. 
The site is mobile friendly, displays a calendar of events, supplies industry services and lists job and career opportunities. As part of The Alliance's long term commitment to cultural access, the calendar will also feature accessible events from a variety of arts disciplines as well as detailed accessibility information for the listed venue.
"The new and improved New Jersey Theatre Alliance website is such a great hub for both the Alliance members and audiences. The calendar is the perfect spot for audiences to learn what's on at the Alliance's member theatres. And as a member theater, I love that the resources are all in one place and easy to access," says Hawley Abelow, the Director of Communications, Marketing, & Membership at Paper Mill Playhouse.
There is something for everyone on the new website. Visitors to the website can explore virtual roundtable discussions, find out more about the Cultural Access Network, Creating Change, and other programs established by The Alliance, as well as learn ways to support The Alliance through donations and volunteer opportunities.
"As member theatres, our time is so limited, but being able to promote our productions and educational programming in such a quick and easy way makes our lives so much easier," says Danny Campos, the Director of Marketing at The Growing Stage: Children's Theatre of NJ. "The new NJ Theatre Alliance website is so easy to navigate!"
The new website was custom built by Substrakt, a firm who specializes in design and development and has worked with numerous theatres around the world. The site was made possible in part by the support of The Hyde and Watson Foundation, E.J. Grassmann Trust, The Union Foundation, The Blanche and Irving Laurie Foundation, and the New Jersey State Council on the Arts, a partner agency of the National Endowment for the Arts. 
Founded in 1981, New Jersey Theatre Alliance was the first statewide service organization for professional, not-for-profit theatre companies in the United States, and is a leader in developing model programs that unite, promote, strengthen, and cultivate professional theatre in New Jersey.
Advertise with New Jersey Stage for $50-$100 per month, click here for info
---
Funding for the New Jersey Theatre Alliance, a not-for-profit organization, is provided in part by the New Jersey State Council on the Arts, a partner agency of the National Endowment for the Arts, and contributions from numerous individuals, corporations, and foundations including Amazon, The Geraldine R. Dodge Foundation, Grunin Foundation, The Horizon Foundation for New Jersey, Bank of America, City National Bank, The Shubert Foundation, The Blanche and Irving Laurie Foundation, The Hyde and Watson Foundation, The F.M. Kirby Foundation, E.J. Grassmann Trust, The Union Foundation, OceanFirst Foundation, and the New Jersey Arts and Culture Renewal Fund of the Princeton Area Community Foundation
Advertise with New Jersey Stage for $50-$100 per month, click here for info
---