The term laptop is often used quite liberally by those designing computers for gamers, and that idea is perfectly encapsulated with the MSI Titan GT77. This won't fit comfortably in basically any lap, but that's the price you pay for power.
When looking at pure performance on paper, Intel's most recent processors can hang toe-to-toe or even the best Apple's M1 and M2 chips. The difference is, however, that Apple has achieved that while its machines appear to barely sip power while Intel's chips require a ton of it and, as a result, battery life suffers. Combine that with an NVIDA RTX 3080 Ti GPU and you have a computer that needs massive heat ventilation as well as a constant power connection in order to operate during heavy loads.
But boy, the tradeoff for these downsides is some seriously impressive performance.
Don't Call it a Laptop
First of all, I take issue with calling the Titan GT77 a laptop. No, this is a desktop computer that happens to come with a monitor and can support moving from one place to another. It is, and I cannot stress this enough, a computer that is usable on your lap.
Not only is it gargantuan, but under any computing strain, the Titan GT77 starts to output gobs of heat.
To help vent that heat, the rear of the computer, which sits behind the display even when it is fully deployed, is just a giant fan system. It's not quite unattractive, but it is obtrusive. The fans add a significant amount of girth to the overall package and when this computer is operating at its peak, those fans churn out a lot of noise.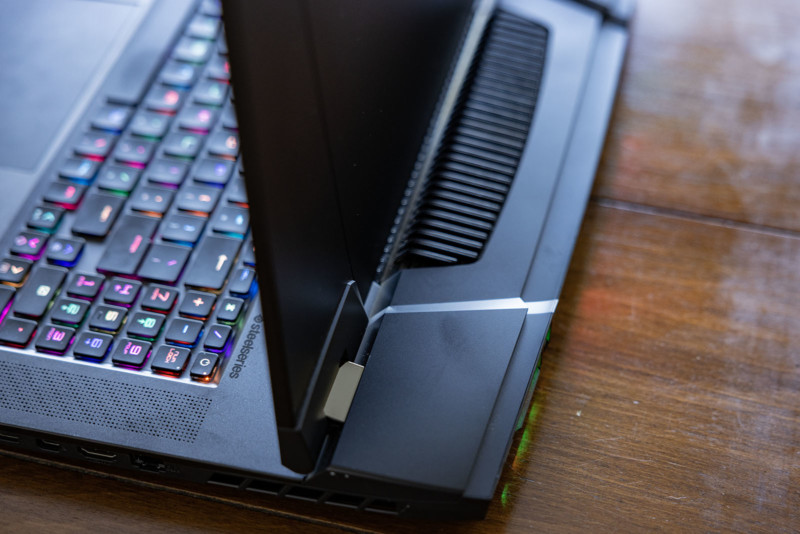 In one instance, I could barely hear my speakers — which are quite good, by the way — over the ruckus those fans were making and had to resort to headphones, so distracting was the drone of that heat dissipation.
MSI made the Titan deep, inclusive of those fans, but it also made it wide. Overall, this mammoth machine measures 15.63 by 12.99 by 0.9 inches. I do not own a single backpack that this computer comfortably fits in. I made the somewhat unintelligent decision to attempt to travel with the GT77 on an airplane, and in order to do so I had to fit it in sideways in a shoulder-slung duffel bag. Even then, it was a tight fit.
All this size is not even considering the massive power brick that the GT77 requires to operate: a thick, 330W chunker. I say requires because while yes, it has an internal battery (it's a 99 Whr) and that means it should be able to last between four and six hours, I never got that much out of it and found that it won't last even half a work day under moderate loads photo editing loads, and certainly not under any type of gaming stress.
Push it harder, and that battery life falls even faster. The cord and associated power brick are a requirement for basically all photo editing activities, and the total package is enormous. Carrying both it and the laptop together requires baggage that I, a man who owns a massive bag collection, have no answer for.
I hope I have made it clear that while yes it technically has the appearance of a laptop, it doesn't really act like one. It is a moderately portable desktop computer and it should be treated as such.
Design, Build Quality, and Ports
First of all, the finish that MSI chose for this computer is a real fingerprint magnet. You can probably see it pretty clearly in all my photos, but even after scrubbing it with a microfiber cloth, where I touch this computer is pretty obvious.
That material you're seeing is plastic, as is most of the exterior. It's not cheap feeling, necessarily, but it doesn't feel extra robust either.
Clearly, it's good enough since it survived a flight to San Diego and back, but I do wish it felt slightly more premium. It already weighs a ton, so what would be the harm in a few more ounces?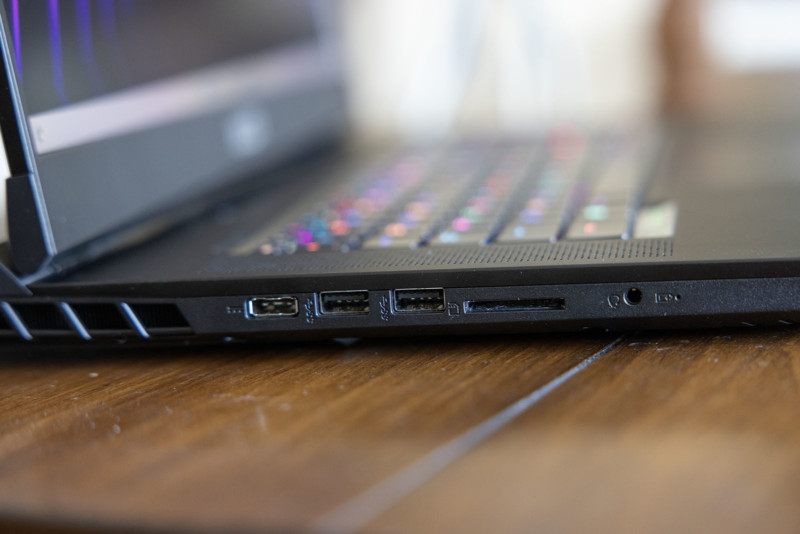 The port selection on this computer is pretty great. On the left side, you'll find the power input port, two USB ports, an SD card reader, and a headphone jack. On the right side, you'll find two Thunderbolt 4 ports, another USB port, a Mini Display Port, an HDMI 2.1 port, and an Ethernet port.
A Great Keyboard
Perhaps because it is so huge, MSI gives you a full keyboard and number pad equipped with a Cherry mechanical RGB keyboard from SteelSeries. As a gamer as much as I am a photographer and journalist, I really do appreciate this keyboard. It has the most satisfying and tactile click, which many gamers — myself included — really desire.
For general typing, it's a bit much but I got used to it pretty quickly. It's certainly not quiet to use, but it's also not going to draw the ire of anyone working around you in a library either — the whirr of the fan is fare more likely to do that.
The touchpad is nothing to write home about, but it is serviceable. It's actually kind of funny how little you're supposed to pay attention to it, since MSI doesn't make any reference to it at all on the computer's official product page and there is no mention of it on the specification page either. It definitely works, but there are no haptics and it's not what I would call "top-of-the-line." Clearly, you're meant to pick up a mouse to use with this machine.
The Display
Normally, we would color-check this display and let you know if it's good enough to edit photos and videos with, but the review unit that we were sent did not come with the high resolution 4K monitor that can hit up to 120 frames per second, but instead the Full HD display that goes as high as 360 frames per second with 8-bit color.
I will say that to my eyes, the Full HD display looked reasonably color accurate and the size of the monitor wasn't so large that I felt as though 1080p was not enough resolution. Still, for critical photo and video work, you're going to want to go with more resolution and not more frames as the priority.
If you're interested in this computer we recommend you pick up the 4K display for both photo and video editing, and we are unfortunately unable to tell you much when it comes to color accuracy.
The Real Story is Performance
Ok let's talk about performance, which is why anyone is going to pick up this computer to begin with. While the aesthetics and target market for the Titan are unabashed "gamer," it just so happens that a lof of what gets packed into gaming computers is also great for apps like Photoshop, Lightroom, and Capture One.
The MSI Titan GT77 (model GT77 12UHS to be exact) we tested features an Intel 12th-Gen 2.3Ghz i9-12900HX, 64GB of RAM, and an NVIDIA GeForce RTX3080 Ti laptop GPU.
We ran the Titan through a gamut of tests that we've kept standardized as best we can over the course of the last several computer generations. It consists of importing 110 61-megapixel Sony Alpha 7R IV and 150 100-megapixel PhaseOne XF RAW files, generating 1:1 (Lightroom Classic) or 2560px (Capture One Pro) previews, applying a custom-made preset with heavy global edits, and then exporting those same files as 100% JPEGs and 16-bit TIFFs.
Because this computer is in an odd space of technically being a laptop but operationally being terrible at that designation, we've gone ahead and included a group of computers that range from both desktop machines to laptops, including a PC loaded with a 32-core, 3.7Ghz, AMD Threadripper 3970x, an Asus TUF 3090 24GB GPU, and 128 GB of DDR4 3200Mhz RAM.
Lightroom Classic
The Titan performed very well here, with fast import and export times. It even bested the M1 Ultra Mac Studio in both import and export of Sony files, and though it lagged behind a bit when it came to importing Phase One files, it bounced back when it comes to exporting with the best performance we've ever seen out of a laptop.
Capture One
As we have noted in the past, Capture One had a bug that notably increased import times of Phase One files on M1 machines. We intend to run new benchmark numbers using Capture One 23 in the future, so bear in mind these older PhaseOne import numbers on M1 machines are not necessarily accurate to current expectations.
Please forgive the incongruity of the x-axis on the import chart: I was struggling with Google Sheets.
As we always point out, it's important to note that Lightroom does not use any sort of GPU acceleration during import or export and instead relies on the performance of the CPU and RAM. Capture One does take advantage of the GPU, though we aren't seeing a much evidence that the high-end 3080Ti really plays a big role in performance gains here. That said, while it falls short of the speeds we logged out of the M1 Ultra, it's pretty darn close and is easily shows the best laptop performance we've tested, and that includes the M1 Max Macbook Pro.
Photoshop
Our final test is to run the Puget Systems' industry-standard PugetBench benchmark.
PugetBench assigns an Overall and four Category scores after timing a wide variety of tasks ranging from the basics like loading, saving, and resizing a large .psd, to GPU-accelerated filters like Smart Sharpen and Field Blur, to heavily RAM-dependent tasks like Photo Merge. As we have in the past, we ran version 0.8 of this particular benchmark, because it was the last version to include a Photo Merge test, a feature we find particular value in given our focus on photography.
The MSI Titan hangs with the top-performing machines we've ever tested in the category scores and outright beats the M1 Ultra Mac Studio that was our previous record holder in the overall scores. That is wild considering that this is, technically, a portable computer. The bar keeps getting raised!
Performance Takeaways
Intel has done amazing things with its most recent processors, and the scores above definitely show that. For photo editing, the CPU performance tends to be the most important feature of a computer and the MSI Titan scored extremely well across the board. I never thought I would see a laptop computer outscore the extremely powerful Apple M1 Ultra Mac Studio in any category this quickly, but it's been done inside of a year.
The main thing to think about is that while yes, this computer is an absolute beast when it comes to pure power, it does so at several costs: power draw, fan noise due to heat, and literal price. While we don't specifically test power draw here, it's something to bear in mind — Apple still owns the industry when it comes to performance per watt. You're definitely not going to be saving on your power bill if you plan to operate the Titan for extended periods of time at maximum power and you certainly aren't going to forget it because it'll regularly remind you with its very loud fans. But if that doesn't matter to you, the Titan presents an appealing combination of portability and power.
Insanely Powerful for a 'Laptop'
While you certainly aren't going to enjoy using the MSI Titan GT77U on your lap, the overall package is honestly surprisingly small considering how much is packed in here. Sure, you're not going to actually want to take it outside your house very often due to its massive size and absurdly big power brick, but the fact is you can, which is more than I can say for the only other machines that we tested that even come close to the performance the Titan brings.
As I said when I reviewed the M1 Ultra Mac Studio, very few photographers need this kind of power for their work, but the Titan brings something to the table that Apple doesn't: the ability to play high-end video games. I think there will be many who immediately disregard this bonus feature, but there are a lot of photographers who enjoy their recreation time when they're not working. A machine that is this competent as an editing tool that also can run AAA video games at maximum settings without skipping a beat is a fantastic combination, even if it comes at a literal price: the MSI Titan GT77 costs $4,000.
Overall, the MSI Titan GT77U wing the race when it comes to power, but stumbles when it comes to usability. I think what is perhaps most valuable about the testing we did with this laptop is it shows just how powerful Intel CPUs are now. If nothing else, we know that even if it can't mimic the low power consumption of Apple, it's keeping up on performance.
Are There Alternatives?
We're still working our way through laptops and desktops that use 12th and 13th-generation Intel chips since for the past couple of years, getting our hands on them has been difficult due to supply chain disruptions. That said, while it's not quite as powerful in many cases, the Apple M1 Max MacBook Pro is still an excellent buy and is probably a lot more usable in more situations since it boasts much better battery life and runs far cooler and quieter. You just can't play many video games on it.
Should You Buy It?
Maybe. In the end, you're going to have to decide if this much raw power is worth it in a chassis that is more desktop than laptop. The ideal buyer is going to be in it as much for the gaming performance as they are for photo editing, and that certainly isn't everyone.